KATY, Texas – Johnny Football continues on his road to recovery and finds himself signing autographs for an hour and a half at a local mall sports memorabilia store.
This is his second autograph session, the first coming during Super Bowl weekend.
Fans and jokers alike joined the former Cleveland Brown as he signed over 150 autographs and sold professional photographs for $99 as he shook hands as well as took pictures with fans.
Texas A&M Alumni appeared to give him support as he has made it evident that he is trying to clean up his life in hopes of repairing his reputation and possibly, one day return to the NFL.
Spectators were the only ones able to speak with Manziel, as he declined to comment to media personnel. Read the entire article as reported by ESPN from Thursday's event here and see the video.
Pranksters even took pictures with him posing in their favorite Johnny Football moments from 2016.
The Scooby-Doo costume and the ridiculous stack of cash from a night at the casino before his last trip to Las Vegas where he was seen rolling them up…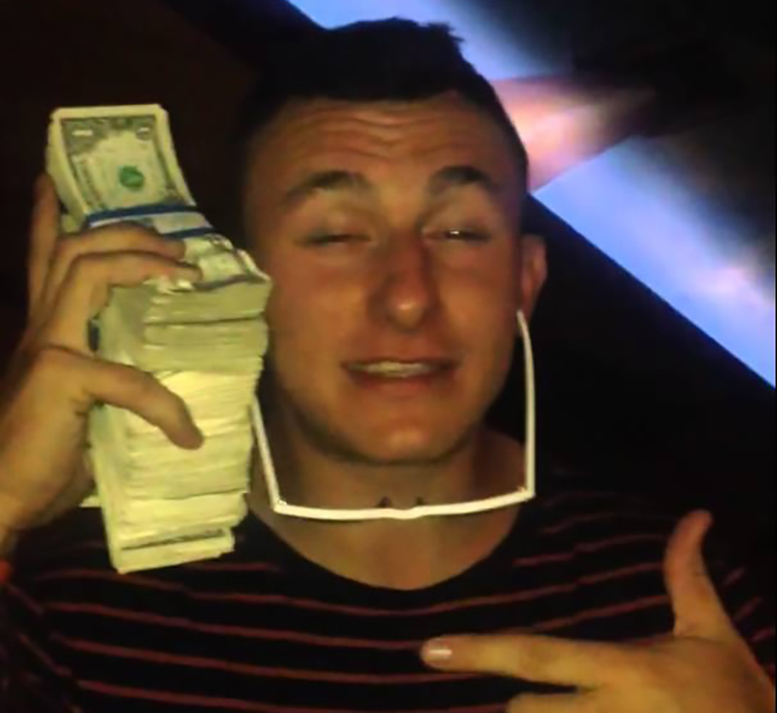 I bet after signing all of those footballs, helnets and jerseys, he still had a stack of money similar to this upon leaving, but I bet you he remembers it this time and his eyes are open in more than one way.
Continued wishes for good luck on his journey into sobriety, which he says he has accomplished without professional help. As I alluded to in my last article about Johnny, he wants to thank all of the people who helped get back to where he is today.